Chemical Fiber Titanium Dioxide 1966
1966 Chemical Fiber TiO2 is produced in accordance with international aqueous phase process. Surface coating is adopted for titanium dioxide granule to make modification so as to reduce the photosensitivity and increase its dispersion. The product is featured by even coating and stable property. And it is primarily used in the manufacturing of high-quality polyester fiber, filament and high-performance masterbatch.
Indices of 1966 chemical fiber titanium dioxide: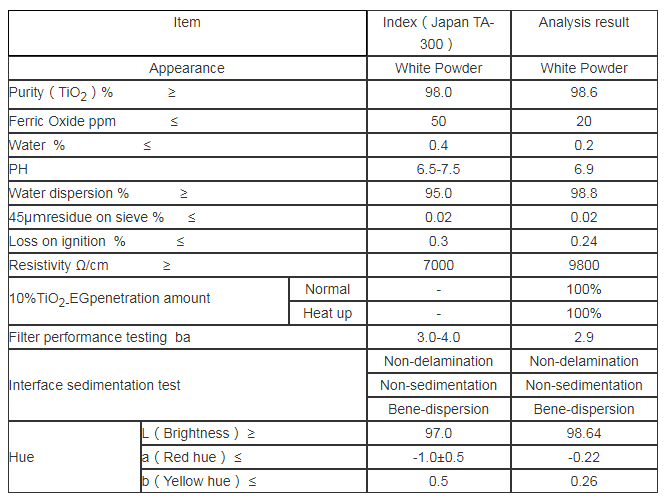 Packing: Conventional packing of chemical fiber titanium dioxide is 25kg net weight/bag or 1000kg per pallet.
Transportation: In transportation, chemical fiber titanium dioxide should be kept dry and free from exposure to rain. Combined shipment with goods that may deteriorate its quality or damage the packing is strictly prohibited. Ensure product safety and packing cleanliness during transportation.
Storage: In storage, chemical fiber titanium dioxide should be kept dry, ventilated and free from exposure to light, and is preferably kept indoors or in a place with a canopy. The storage site should be kept clean and free from exposure to sunlight, moisture and rain. The validity period is 3 years as of the date of production. Upon the expiration of the validity period, the product is subject to re-inspection of all items and approval before it is used.